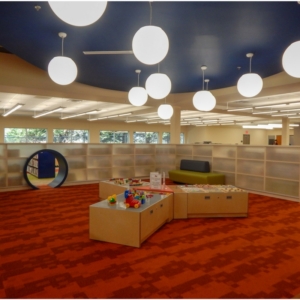 Work on the expansion and renovation of one of the State of Georgia's busiest public libraries entered the final punch out stages for the Forsyth County Public Library System last week.  Sharon Forks Library was eager to get the last minute details ironed out as they opened the doors to the public for the first time in a month to let the community experience the new features available to the community.
After a year of shifting books and services to continue to serve the visitors of the Sharon Forks location, the final layout of twice the original size of the facility was finally completed during the spring of 2018.  The final design for the project consisted of gutting the original 20,500 sq ft facility and converting it into a new 39,183 sq ft facility that features a teen area, children's section, multiple multi-purpose rooms, Wi-Fi connectivity rooms, and more reading areas.   The layout includes unique lighting and bookshelf layout features such as the crawl through a tunnel in the children section.
Behind the scenes, improvements include new book return and employee areas that upgraded older technology to the newer state of the art processing equipment.  Final details of this project included color-coded sound absorption panels for the walls, new paint and trim work for the entire facility, and new matching décor throughout the facility.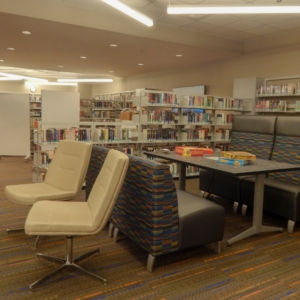 Cooper is honored to be a part of this project in conjunction with architectural firm McMillan, Pazdan, and Smith.  As a neighbor of the Forsyth County Public Library System, we understand the service that this organization performs for the residents of Forsyth County and the value of the Sharon Forks Library location.
"The amount of work the library employees put into making sure that the books and computers were available to the public during our construction was phenomenal.  They truly wanted to make sure that the community continued to have access as we continued to ensure their safety during the project", stated Project Manager Todd Ford.
Sharon Forks reopened the end of March with a grand opening that included performances from Lambert High School's string quintet, several cultural demonstrations, and performances from the University of North Georgia on Chinese culture and traditions, and two Indian dance performances from Natyalaya School of Indian Classical Dance and Atlanta Nritya Dance Academy.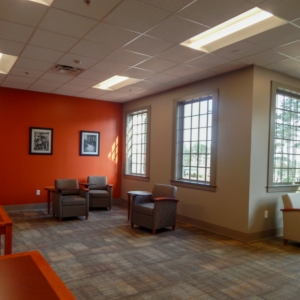 Cooper is always blessed to be a part of projects that are not only directly benefiting our community but actually touch the lives of the families who work for the company.
Project Scope Includes:
18,683 + SF addition | Design – Bid – Build
Structural Steel Frame
Interior & Exterior Walls
Earthwork
Concrete Site work.
Parking lot expansion & renovation of existing.
Roof
Interior & Exterior Finishes
Architect: McMillan, Pazdan, Smith