The Habersham County Commissioners along with Precision Planning and Cooper & Company were all present on a picture-perfect day in November to celebrate the groundbreaking for the new Habersham County Administrative Building in Clarkesville, GA.
The new 30,000 sq ft facility is designed to centralize the non-judicial services for the county under one roof.  Habersham County Commission Chairman Victor Anderson discussed the importance of the facility at the groundbreaking as a long time need for the residents of Habersham County. The design plans for this facility will incorporate office space on three floors of the facility with a mechanical mezzanine off the fourth floor
Cooper and Company is working with architect Precision Planning to oversee the site development and construction of the new facility that will centralize county services from tax commissioner to building and planning under one roof.
"As an original Habersham native, I am very proud to be a part of such a monumental project for the county.  I understand that this building will not only serve the citizens of Habersham in a more effective manner but be a landmark for the area for future generations" shared Project Manager Chris Ritchie.  Chris has worked diligently with subcontractors in the local area to be a part of this significant structure.  "We are working towards tapping into subcontractors who have connections to the community and feel a similar bond to being a part of this construction project."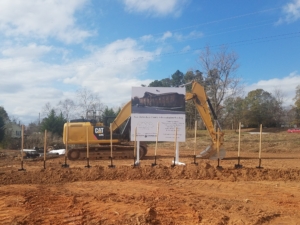 The Habersham County Administrative Building is being developed off Jacob's Way across from the Ruby Fulbright Aquatic Center.  The current job site is composed of previously undeveloped land that is requiring quite a bit of site development.  The hard ground surface provided a small challenge but Cooper was able to get the grading started and concrete poured prior to the end of the year thanks to local sub-contractor Impact Concrete.  Cooper has also been able to move forward with the challenge of getting the septic system approved by Habersham County and is fortunate to be utilizing the local services of All American Earthworks to help complete this task.
"We can't always use local subcontractors in every aspect and maintain adequate cost for our projects.  However, when we can it provides additional benefits for the community, building efforts, and job site" stated Ritchie.
Cooper & Company is honored to be selected by the Habersham County Commission to fulfill the construction needs of their future Administrative Building.  Cooper has a long-standing commitment to serving local, state, and federal governments with their efforts to provide quality building projects for the community.
Project Scope Includes:
30,000 + sf | Design – Bid – Build
Structural Steel Frame
Interior & Exterior Walls
Earthwork/ Site Development
Concrete Site work
Landscaping
Roof
Interior & Exterior Finishes
Architect: Precision Planning