Cumming, Georgia – Cooper & Company General Contractors, a general contracting firm located just north of Atlanta is excited to announce our recognition as a first place recipient of a 2018 Build Georgia Award Recipient for our work on the Paulding County 911 Emergency Operations Center in Dallas, GA.
Company Vice- President Jim Cooper was on hand at the annual Associated General Contractors of Georgia (AGC) conference in Destin, FL to receive the award bestowed to the company by their colleagues and peers.
"It is both prestigious and humbling to be recognized as a Build Georgia Award recipient.  We deeply appreciate when our stellar efforts to provide quality construction and customer service to our project owners is recognized", stated Jim Cooper.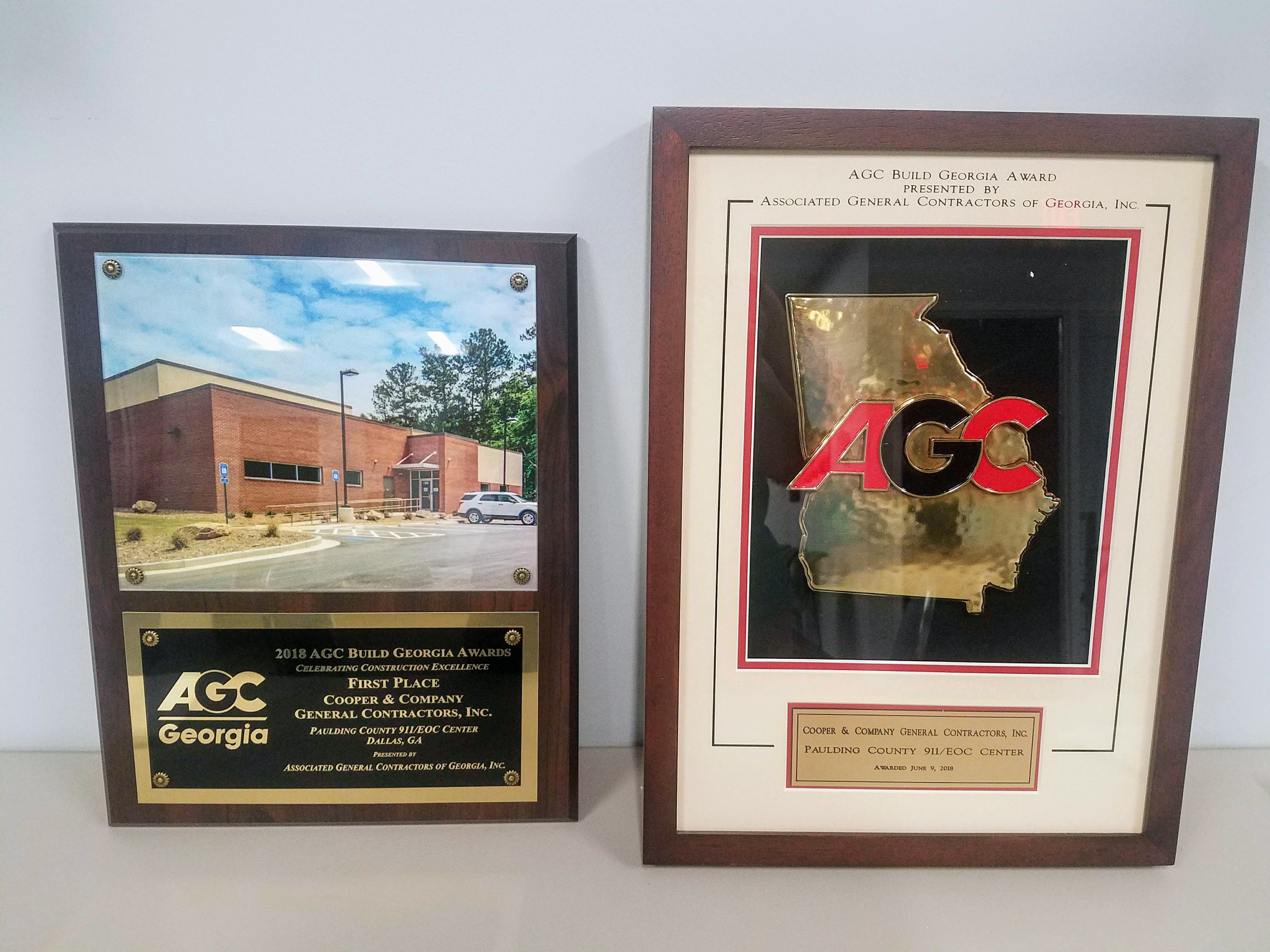 This year's award was due in large part to the efforts of Cooper's Director of Field Operations Chris Ritchie.  In the preconstruction and initial phases of the $2.7 million, 12,000 sf Command Operation Center, Chris went door to door to inquire at local repair and supply stores to find new local sub-contractors for this project.  He also went door to door to introduce himself to the neighbors who were in close proximity to the jobsite in an effort to provide stellar customer service.
Along with 51 years of experience in the construction industry, the Cooper team brought the knowledge and insight of how to produce a quality construction project to the citizens of Paulding County in the most cost-effective way possible.  Cooper was proud to partner with Croft & Associates and Croy Engineering to help bring this project to life.
Steve Cooper, President of the company commented, "We couldn't be prouder of Chris and the efforts our team that made this award possible.  Our goal at the end of the day is to do what's best for the client and we appreciate it when our industry recognizes that effort."
Find more information about the project in our portfolio or view similar projects in the Our Work section of our site.  Check out the coverage from the Atlanta Business Chronical for a complete list of the 2018 Build Georgia Award Winners including Cooper & Company.